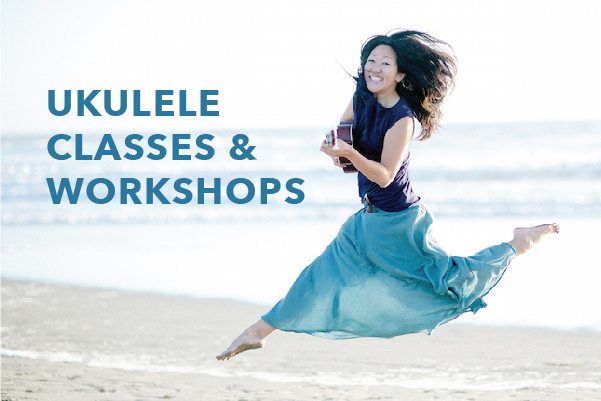 VISIT YOUTUBE FOR UKULELE VIDEOS AND TUTORIALS
VISIT GUMROAD FOR UKULELE CHORD CHARTS AND MAILING LIST
* * *
VOCAL POWER - ONE DAY WORKSHOP
Sunday January 29, 2017 from 2:00-4:00pm at Feldenkrais Center SF
98 Chenery St, San Francisco, CA 94131
Vocal Power is more than just volume - vocal power is confidence, control, freedom, connection, and full-body release. Learn to use the full potential of your voice.
In this 2-hour workshop, vocal coach Cynthia Lin will guide you through the fundamentals of how to develop healthy breathing and vocal habits to harness your inherent vocal power. Cynthia will provide a worksheet of breathing exercises and vocal warm-ups for your home practice. All levels welcome.
$60 buy ticket, only 20 seats
* * *
UKULELE CLASSES IN SAN FRANCISCO / BAY AREA

Levels:
BEGINNER - meets Tuesday 6pm
ADVANCED BEGINNER - meets Tuesday 7:15pm
INTERMEDIATE - meets Wednesday 6:30pm
for email updates on Ukulele Classes in San Francisco, sign up here

please note: i teach only group classes and workshops.
i do not teach private lessons because i believe ukulele is best learned in a group environment.
i encourage you to join a group class!
BEGINNER I UKULELE - 6 WEEK SERIES
starting Tuesday January 24, 2017 from 6-7pm at SHARED SF
739 Bryant St, San Francisco, CA 94107
meeting Tuesdays Jan 24, 31, Feb 7, 14, 21, 28
for students brand new to uke or any instrument, bring your own ukulele
this class will give you a solid foundation for making music on the uke.
we'll learn to read chord charts, play the most common chords,
learn three important strums, and we'll play a new song each week.
*all classes are recorded, missed classes can be made up via video
$120, for 6 weeks
BEGINNER II UKULELE will follow Beginner I and run from March-April 2017.
ADVANCED BEGINNER UKULELE - 6 WEEK SERIES
starting Tuesday January 24, 2017 from 7:15-8:15pm at SHARED SF
739 Bryant St, San Francisco, CA 94107
meeting Tuesdays Jan 24, 31, Feb 7, 14, 21, 28
prerequisite: Beginner I class, and please also review the following lessons from Beginner II: fingerpicking , reading tab, and chucking
In the Advanced Beginner class, we learn a new song each week and practice a variety
of advanced strumming and fingerpicking techniques, build our chord base,
and practice singing and playing at the same time.
This is a mixed level class. There will be optional variations for more advanced players.
Cynthia will adjust the pace and song choices to best suit the level and interests of the class.
*all classes are recorded, missed classes can be made up via video
$120, for 6 weeks

INTERMEDIATE UKULELE WORKSHOP - 6 WEEK SERIES
starting Wednesday January 25, 2017 6:30-8pm at Binky's Barn inside Project Artaud
499 Alabama Street, San Francisco, CA 94110
meeting Wednesdays Jan 25, Feb 1, 8, 15, 22, March 1
In this workshop, we will begin developing a performance repertoire with multiple part arrangements.
We'll focus on building strong rhythm and learning some music theory.
We will move quickly through songs; you should feel comfortable
with your ability to learn new chords and pick up new strumming / finger-picking patterns.
please check with Cynthia that you are ready for this class
*all classes are recorded, missed classes can be made up via video
$120, for 6 weeks